Home
»
Concrete Lifting and Leveling
Concrete Leveling and Lifting Services in Grand Rapids, Lansing, Kalamazoo
Quickly & effectively stabilize your sinking, settling concrete with our PolyLevel® polymer injection
Does your driveway, sidewalk, walkway, concrete steps or patio have problem areas where sunken concrete has caused uneven surfaces and tripping hazards to form? It's a very noticeable problem that has a very simple solution.
Conditions, where outdoor concrete has already begun to sink, are not uncommon in Michigan & Indiana and are often the result of shifting or a weak soil base or erosion. If you have noticed sinking concrete near your home in Kalamazoo, Lansing, Grand Rapids, or nearby Michigan, call us today for a free estimate!
See for yourself why PolyLevel® is a smart alternative concrete repair solution.
Signs of Sunken Concrete
Sinking concrete steps or sidewalks
Cracked, bumpy and uneven driveways or patios
Cracking and sinking sections of slabs
Washout of soils under concrete slabs
Repeated cracking of concrete slabs
Before and After
Before

After

Rochester, MI Garage Slabs Lifted and Leveled Using PolyLevel Injection

Six years ago Jess L. had concrete lifted at the meeting point between his garage and driveway. Recently he noticed that the concrete had settled about an inch around his garage door which made closing the door very difficult. We lifted the settled concrete in the garage/driveway intersection using our PolyLevel Injection. This is a great alternative to replacing cracked or settled concrete. This high-density foam fills any voids in soil particles, is waterproof and lightweight, and does not take long to cure.

Our concrete leveling specialist also recommended that Jess have the existing downspout extended to the yard to prevent water from washing out soil below the garage and driveway concrete which could lead to further settling.

Before

After

Grass Lake, MI Walkway is Crumbling

One of our customers from Grass Lake called us about his walkway that was experiencing sagging and cracking. We gave him our professional help so that this would no longer be an issue. We installed PolyLevel which is an advanced polymer injection foam that we blast into the concrete which raises it level and makes it stronger than ever before. PolyLevel worked to raise and level out the concrete slabs while dealing with the weak soils below that were no longer able to hold the weight of the home above. We drilled multiple small holes into the concrete slabs in order to inject them with a polymer material that expanded to lift and level out the concrete. Once injected, the system only needed about 15 minutes to fully cure and the slabs were then stabilized and lifted to their proper level, and stronger than ever before. Now, this homeowner will not have to worry about this ever again.

Before

After

Poly Level Repairs Cracked Patio in Jackson, MI

Sinking, uneven concrete can be dangerous, it can look bad and it can lower the resale value of your home. PolyLevel is a very easy way to fix your concrete. We drill penny size holes in the concrete and inject structural grade polymers in to raise the concrete back to its desired height. The polymers are waterproof so they won't wash out and they cure very quickly so your cement can be drove on almost instantly after the process is completed.
Customer Reviews
By Randy R.
Cement City, MI

"Overall, was able to to meet our needs very well. "

By Mark G.
Stockbridge, MI

"Overall very happy with all aspects. The work crew was AWESOME"

"Ayers was great to work with. Even when there were issues (beyond their..."

By Oak Hill C.
Jackson, MI

"The products you use and Mr. Virgil Ayers. We received several proposals..."

By Nick & Nancy M.
Jackson, MI

"Greg as excellent and very thorough and professional. "

By Kathleen & Bill H.
Williamston, MI

"We thought Glen did a good job."
Sinking sidewalks, driveways, and concrete floors aren't just eyesores - they can quickly turn into safety hazards! Sinking concrete can be especially troublesome if you are:
Concerned about the liability of visitors tripping on your property
Preparing your home for sale
Or simply want to enjoy your home with your family and friends
Which sidewalk would you prefer to walk on?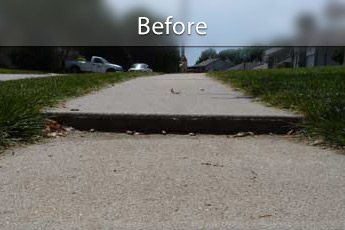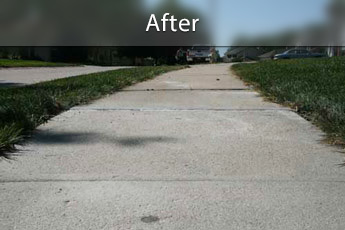 Concrete Repair Can be Simple and Affordable - Find Out How!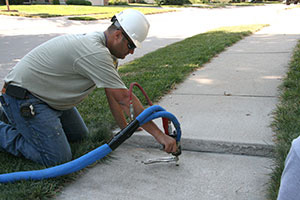 PolyLevel® is a fast & efficient method to raise sinking concrete. This simple foam injection can stabilize your concrete slab for years to come!
Ayers Basement Systems can fix your sinking outdoor concrete problems so you can enjoy your driveway, sidewalk or patio again without worry.
In the past, contractors relied upon mudjacking (also known as slab jacking, concrete lifting, concrete raising, grout pumping and slab leveling) to level concrete that had settled over time. This entailed pumping concrete slurry under the settled slab to raise it and hoping that the settlement wouldn't continue.
At Ayers Basement Systems we use PolyLevel® to lift concrete slabs to a level position with less weight and disruption than the legacy mud jacking or slab jacking process.
See for yourself how PolyLevel® works.
We would be happy to provide you a free evaluation and estimate for concrete repair and leveling in Battle Creek, Elkhart, Muskegon, South Bend, IN, Jackson, Mount Pleasant, Traverse City and other local areas.