Home
»
Concrete Lifting and Leveling
Concrete Leveling and Lifting Services in Grand Rapids, Lansing, Kalamazoo
Quickly & effectively stabilize your sinking, settling concrete with our PolyLevel® polymer injection
Does your driveway, sidewalk, walkway, concrete steps or patio have problem areas where sunken concrete has caused uneven surfaces and tripping hazards to form? It's a very noticeable problem that has a very simple solution.
Conditions, where outdoor concrete has already begun to sink, are not uncommon in Michigan & Indiana and are often the result of shifting or a weak soil base or erosion. If you have noticed sinking concrete near your home in Kalamazoo, Lansing, Grand Rapids, Traverse City, or nearby Michigan, call us today for a free estimate!
See for yourself why PolyLevel® is a smart alternative concrete repair solution.
Signs of Sunken Concrete
Sinking concrete steps or sidewalks
Cracked, bumpy and uneven driveways or patios
Cracking and sinking sections of slabs
Washout of soils under concrete slabs
Repeated cracking of concrete slabs
Before and After
Before

After

Sinking Driveway Fixed in La Porte, Indiana

Is your driveway cracked and starting to sink in spots? Don't worry this is common for many homeowners, and we have the perfect solution. You might as well get the problem fixed before someone trips, or you decide to sell your home and it decreases the resale value and lets be real, the problem can and will continue to get worse.

To fix sinking concrete we have a great PolyLevel system that can lift your concrete slab back to its original/desired height. PolyLevel is a lot less invasive than mudjacking or even pouring new concrete. Small holes are drilled in the concrete to inject the structural grade polymers, but don't worry the holes are virtually unnoticeable once complete. The material that we inject is also waterproof so there is no chance of it washing out beneath the slab. The best part though is that the cure time is only about 15 minutes, so you can go back to driving, parking, and working on your cement in almost no time.

Before

After

Muskegon, MI Pool Walkway Gets a Lift

This house has a beautiful in-ground pool in their backyard, but sadly the uneven sidewalk was taking away from that. The different levels of sidewalk also were a tripping hazard, and that could lead to someone falling into the pool. Our solution was to fix it using PolyLevel. PolyLevel is a foam polymer that is injected into the sidewalk through extremely small holes. It fills out under the sidewalk and pushes it up to the correct level. It is truly one of the best solutions for this type of problem, just look at how beautiful the walkway looks after!

Before

After

Leveling Concrete in Culver, MI

Sandi needed help leveling the concrete around her pool so she called our team and we installed PolyLevel. PolyLevel is a system designed to fix concrete slabs that have sunk by using a new product to lift the concrete slabs back to their original level. The new product used is a polyurethane foam that expands and has a high density in order to raise the concrete. The process is quite simple and is done by drilling small holes into the concrete and then inserting the foam into the holes. Also, the PolyLevel system is waterproof and long-lasting.
Customer Reviews
By Bill N.
Three Oaks, MI

"Internet and all the positive responses from customers."

By Alicia S.
Six Lakes, MI

"Did a very good job and got done fast!"

"Very good, friendly and professional."

By Margarett F.
Berrien Springs, MI

"I called several other companies. None of them responded. Ayer's not only..."

"The install crew were nice, they explained every step and showed me the..."

"Ayers had the best prices and was the fastest to return calls. "
Sinking sidewalks, driveways, and concrete floors aren't just eyesores - they can quickly turn into safety hazards! Sinking concrete can be especially troublesome if you are:
Concerned about the liability of visitors tripping on your property
Preparing your home for sale
Or simply want to enjoy your home with your family and friends
Which sidewalk would you prefer to walk on?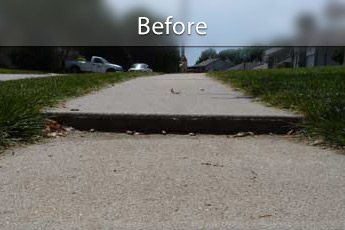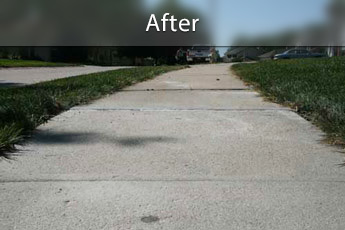 Concrete Repair Can be Simple and Affordable - Find Out How!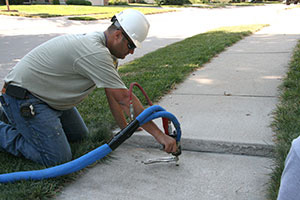 PolyLevel® is a fast & efficient method to raise sinking concrete. This simple foam injection can stabilize your concrete slab for years to come!
Ayers Basement Systems can fix your sinking outdoor concrete problems so you can enjoy your driveway, sidewalk or patio again without worry.
In the past, contractors relied upon mudjacking (also known as slab jacking, concrete lifting, concrete raising, grout pumping and slab leveling) to level concrete that had settled over time. This entailed pumping concrete slurry under the settled slab to raise it and hoping that the settlement wouldn't continue.
At Ayers Basement Systems we use PolyLevel® to lift concrete slabs to a level position with less weight and disruption than the legacy mud jacking or slab jacking process.
See for yourself how PolyLevel® works.
We would be happy to provide you a free evaluation and estimate for concrete repair and leveling in Battle Creek, Muskegon, Jackson, Mount Pleasant, Traverse City, Niles, Alpena and other local areas.
Looking for a price? Get a no cost, no obligation free estimate.