Your Basement & Foundation Contractor
For 35+ years, Ayers Basement Systems has been [city_page;city_name]'s trusted contractor for basement & foundation work. As a locally owned and operated business we are proud of the reputation we have built. We stand behind our work and customer service, providing extensive warranties and 100% customer satisfaction. Working with hundreds of businesses and homeowners we have successfully provided foundation repair, concrete leveling, basement waterproofing, and crawl space repair.
Why Us for Basements & Foundations:
Experience - 35+ years with hundreds of successful projects
Patented Products - proven basement & foundation tools
Trained Professionals - trained & certified repair professionals
Professional Service - highest grade customer service
If you need foundation or basement work in you Traverse City home we are the right choice. We have the experience, products and personal needed for permanent repair work. Call us today at 1-888-489-4425 for a free, no-obligation home inspection and cost estimate.
Basement Waterproofing & Crawl Space Repair
If there is water or moisture in your basement or crawl space, you will eventually have mold and rot (if you don't have it already). The good news is we can prevent mold and rot from developing with proper basement waterproofing and crawl space encapsulation. Ayers Basement Systems keeps you home dry and safe. Our work comes with a lifetime, transferable, dry-basement warranty.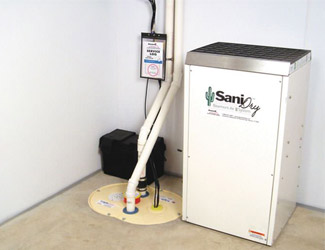 We can fix:
Wet Basements
Damp or Moldy Crawl Spaces
Leaking Wall Cracks
High Humidity in the Space
Uncomfortable Temperatures
Our Basement Waterproofing System
Ayers Basement Systems uses a proprietary, patented basement waterproofing system to keep you Traverse City home dry. We first install a hidden drainage channel along the inner perimeter of your basement. Any water entering the space is quickly collected into the drainage channel (before any damage can happen). The water is channeled to a hidden sump pump which pushes the water out of your home and away from the foundation. The entire system is 'invisible'. You don't see it working, you only see the results - a dry basement. The finishing touch is a specially designed, energy-efficient basement dehumidifier which removes excess water vapor. This prevents mold growth.
Crawl Space Encapsulation
We can also protect your crawl space using a similar waterproofing system. The entire crawl space is covered with a thick, vinyl vapor barrier which lays on top of a insulating matting placed on the floor. The crawl space vents are sealed off and a sump pump and dehumidifier are installed. The crawl space entrance has a sealable door installed. The completed system removes any entering water and keeps the relative humidity of the space low enough to prevent mold growth and rot. No wet crawl spaces. No mold or rot. No uncomfortable, cold floors over the crawl space.
Foundation Repair & Concrete Leveling
Foundation issues can quickly destroy the value of your home if left unfixed. We have repaired and restored the foundations for hundreds of homes throughout Michigan including Traverse City. We have a number of different tools to ensure we have the right solution for the exact foundation problem your home is facing.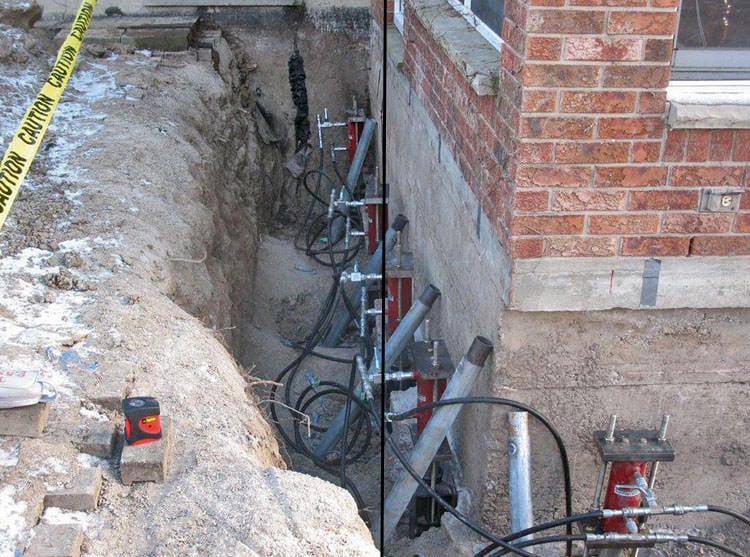 We can fix:
foundation wall cracks
Separating floors
Soil issues
bowing walls
Sunken concrete slabs
Professional Foundation Repair
If your home's foundation is settling we can fix it using foundation piers. Depending on the underlying cause of the settlement we use push piers, helical piers, slab piers or helical deck piers. For bowing basement walls we can use wall anchors, wall stabilization systems or sprayed concrete. We even correct sagging floors over crawl space by installing support jacks. Whatever foundation problem you have, Ayers Basement Systems can fix it.
Updated Mudjacking Techniques
Most of the Traverse City foundation contractors you speak with will recommend mudjacking for sunken concrete slabs. The problem is that they are using an antiquated version of the method. Mudjacking or slab jacking requires holes be drilled into the concrete slab. A thick mudclurry is pumped through the holes, underneath the slab where it cures. Rather than use a mudslurry, we use PolyLEVEL, an expansive, polyurethane foam. The foam is injected through much smaller holes, expands to fill any gaps beneath the slab and cures in hours instead of days. The foam is also much lighter than mudslurry and puts less stress on underlying soils. Give us a call to gets started with a free home inspection and no-obligation estimate.