Our Basement Waterproofing System in Grand Rapids, Lansing & Nearby Michigan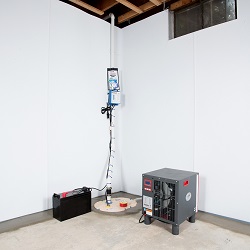 Keep your basement dry all the time. A TripleSafe® Sump Pump System (shown here), combined with a SaniDry® dehumidifier, represents the ultimate in basement waterproofing and humidity control.
We offer effective solutions for all types of basement waterproofing problems in Lansing, Grand Rapids, and Kalamazoo
Do you have cracks in your basement floor or walls that leak after rainfall? Is there a persistent, musty odor throughout the basement, or potentially spreading to other areas of your home? If a wet, leaky, smelly, or damaged basement is presenting an issue in your home, then you need to contact the expert basement waterproofers at Ayers Basement Systems. We bring 40-plus years of basement waterproofing experience to customers throughout Michigan, with thousands of satisfied customers backing our claim to the title of Michigan's most trusted basement waterproofing contractor. We will identify the source of your issues and prescribe the perfect solution for your home.
Basement Waterproofing Solutions
Whether you have wet walls, leaky cracks in the basement floor, flood concerns, or excessive humidity, we have the solution for you:
Perimeter drainage systems
Doorway drainage systems
Sump pumps
Waterproof wall and floor products
Wall and floor crack repairs
Replacement windows
Water heater flood protection
If you have water in your basement or want to learn more about our basement waterproofing solutions, call us today at 1-844-262-2971 or click below. We offer free estimates in Lansing, Kalamazoo, Grand Rapids, and many surrounding areas.
---
Why Ayers?
Your home is one of your family's most valuable assets. When water in the basement tries to damage the value of that asset, a basement waterproofing system is a surefire way to mitigate impacts, fix existing issues, and ensure a dry basement environment and a strong, stable home. So, the question remains: why choose Ayers Basement Systems?
4-Decades of Community Experience

With 40 years of expertise in basement waterproofing, you can be sure that you're getting what you pay for. Our basement waterproofing teams are highly-trained and experienced in all manner of basement waterproofing applications - with four decades of experience under our belts, we're certain that no job is too tough for us to tackle.
Future-Focus - Invest With the Best

A basement waterproofing system, much like a new deck or roof, isn't only the sum of its parts. When you decide to invest in basement waterproofing with Ayers, you're getting a dry, clean, and stable basement environment while simultaneously improving your home's long-term value. It's not just a perimeter drain, dehumidifier, sump pump, and vapor barrier installed by Michigan & Indiana's leading basement waterproofing experts - it's a long-term value proposition invested with the best in the industry.
Value & Peace of Mind - Our Lifetime Warranty

We offer our customers a written, transferable, lifetime warranty on all basement waterproofing systems. That's right - when we waterproof your basement, we're not just providing you with immediate-term value in the form of a permanently dry basement. Our systems also extend to future prospective buyers, simultaneously eliminating the potential for loss of resale value from a wet basement while increasing the comparative value of your home over one with a wet basement. With Ayers Basement Systems, you get a dry basement, peace of mind, and maximize the value of your home from the bottom up.
Top-Tier, Proven Technologies

Every basement waterproofing solution is a system of interlocking parts. So much humidity in your basement that the walls are beaded liquid water? We might prescribe one of our basement dehumidifiers and a CleanSpace® wall vapor barrier, tackling excess humidity, foul odors, mold growth, and more in one fell swoop. Have flood concerns? Our perimeter drains and a TripleSafe™ Sump Pump System will quickly remove any water that enters your basement, even in situations when power to the home is lost (see our Sump Pump systems for more information). Our technicians will provide the exact system to meet your home's needs, installing the industry's best technologies. When it comes to your home, don't you want the best?
---
Effective basement waterproofing solutions for all your home's issues
A home with a wet basement can be much more difficult to sell. In fact, a wet basement is one of the most serious "red flags" that deters buyers. The good news: we offer waterproofing products and services to help solve your basement problems fast. Our solutions include:
Our basement waterproofing system comes with a lifetime written warranty that's transferable to the next owner, so not only does our system restore value to your house, but it also gives homeowners and buyers confidence that their home is protected.
The causes of a wet basement
Did you know you can have water issues in your basement without heavy rains or obvious standing water? It's easy enough to see water coming through a crack in your floor or basement wall, but what's the real cause of your basement water problem?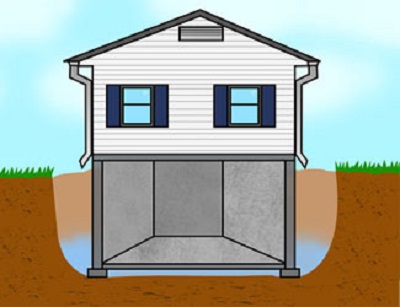 The Clay Bowl Effect
Excavated soil that's replaced around a completed foundation isn't as dense and tightly packed as undisturbed soil farther away. As a result, water collects in the soil immediately surrounding the house, putting pressure on foundation walls and causing cracks.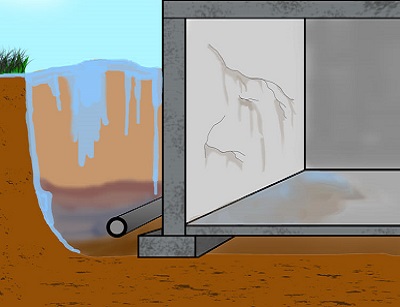 Hydrostatic Pressure
The weight of the water in the soil around the foundation exerts pressure, forcing the water through cracks, gaps, holes, and around windows leading into the basement.
---
FAQs
Can I Install My Own Sump Pump?

Sump pumps are a key part of a basement waterproofing system, evacuating water from the basement in times of heavy rain or flooding. While there are hundreds of off-the-shelf sump pumps for home use, none can match the quality of those installed by Ayers Basement Systems. As a Basement Systems dealer, Ayers installs the industry's best sump pumps with the expertise earned through more than 40 years of experience. Our premier system, the TripleSafe™ Sump Pump, offers three levels of protection. First, a 1/3 horsepower, cast-iron Zoeller® sump pump set at the lowest level of the system handles the day-to-day water removal needs. In times of distress, a second Zoeller® ½ hp pump set a bit higher in the liner will increase the system's pumping capacity. Finally, in case of a power outage, our UltraSump® battery backup sump pump will remove an additional 11,500 gallons or more of flood water on a full battery charge. Sure, you can buy off the shelf - when you need to be sure of your home's flood safety, we're the right company with the proper tools for the job.
Why Choose a Basement Systems Dehumidifier?

Much like sump pumps, off-the-shelf dehumidifiers are a dime a dozen. Our systems, the SaniDry XP and SaniDry Sedona, are custom designed with decades of engineering expertise and real-world experience to back their performance. The XP model will remove up to 109 liters of water per day in full-capacity operation, drying up to 2,500 sq. ft. in a standard-height basement. The XP model doesn't only remove humidity from the air - the air filter inside the system removes particles as small as 2 microns in diameter, providing dry and clean air in your basement. Our dehumidifiers are designed specifically for permanent humidity control and basement waterproofing applications.
Do I Need a Basement Waterproofing System?

Any water in your basement is a detriment to the health and value of your home. Professional water remediation services are always required to identify the causes of your wet basement and design the proper fix. Of course, no two basements are the same - that's why you need an expert to determine the root causes and provide the solution fit to meet your specific requirements. You wouldn't tolerate water in the footwell of your car, would you?
Is Basement Humidity an Issue?

Humidity, particularly over long periods of time, can damage your basement's structural integrity. While it isn't as immediately noticeable as pools of water or visible cracks, humidity can lead to mold growth, poor air quality, damage to wooden basement components, erosion and decay of metal objects and concrete structures, and more. Any air humidity levels above 55% can lead to damage to your home, and potentially even health ramifications for your family.
---
Get expert basement waterproofing services today
Our crews of waterproofers are experienced, well-trained professionals who work in basements and crawl spaces every day. The experts at Ayers Basement Systems have seen it all, and we know just what it takes to keep your basement dry all the time!
If your basement leaks or floods, or you have mold, mildew or a musty smell, call us today to request a free basement waterproofing estimate in Elkhart, Battle Creek, South Bend, Muskegon, Mount Pleasant, Traverse City, Jackson or nearby. We will send one of our certified basement waterproofing specialists to visit your home and conduct a thorough inspection of your home's basement foundation. We are Michigan & Indiana's trusted basement waterproofing contractor.