Chimney Repair and Street Creep Repair in Michigan & Indiana
Our foundation repair services can fix any foundation problem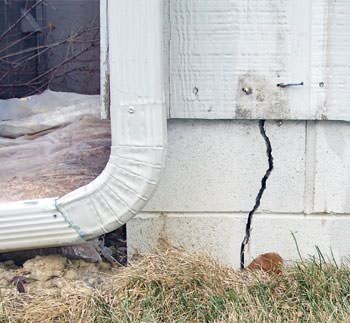 The natural expansion of the street and your driveway can put heavy pressure on your foundation and cause cracking.
If you have damage to your foundation, understanding the cause of the problem and what repair steps to take can be a challenge. The foundation experts at Ayers Basement Systems are here to help you with all your foundation repair needs in Michigan. Our experienced professionals will evaluate your home, identify the correct cause of your problem, and provide you with a quality solution.
We've dealt with all types of foundation problems throughout the years, including wall and floor cracks, bowing and buckling walls, tilting chimneys, and more. No matter what issue you have, we can restore the safety and stability of your foundation.
If you need any of our foundation repair services, call us today at 1-844-262-2971 or click below to get a free estimate! We offer all our services in Grand Rapids, Lansing, Kalamazoo and throughout the nearby areas.
Street Creep Damage

Did you know concrete can expand over time? Thermal expansion and contraction causes concrete to shift over time, including on roadways. Street creep is when the expansion of the road and your driveway puts pressure on your foundation, causing damage to slabs and walls. Street creep will compress expansion joints, cause exterior foundation cracks, and create separation between the garage floor and walls.

This damage is a slow process that takes place as weather turns from season to season. However, when it does affect your home the damage can be severe. We repair street creep damage through a two-step process. First, we install new expansion joints that will create the space needed between your foundation and other slabs such as your driveway. Second, we will install wall anchors that will return the walls to their original condition and provide stabilization. Combined, these two elements will prevent future street creep damage to your home.
Tilting Chimney

If your chimney is tilting or separating from your home, you could have a major foundation issue. Chimney damage is a common sign of poor foundation soils, which can lead to sinking and settling of foundations. This process will cause your chimney to pull away from your home and can lead to additional problems such as a damage to foundation walls. Without the proper support, your chimney will eventually completely separate and fail.

Sometimes homeowners see a gap between the chimney and the house and choose to simply fill the space with caulk to waterproof it. However, this method ignores the root of the issue and can lead to more significant problems over time. In order to properly repair a tilting chimney, we install helical piers for additional support. These piers are screwed into strong supporting soils beneath the problem area, stabilizing your chimney and potentially returning it to its original position.
We can provide quality repairs for all your foundation problems
If you have street creep damage, a tilting chimney, or any other foundation problem, Ayers Basement Systems can provide you with an appropriate solution. Our experts will inspect your home to determine the best course of action, and we always provide quality installation.
If you need foundation repair services for your home, call us today at 1-844-262-2971 or contact us online to learn more about how we can help you. We offer free estimates on all our work in Grand Rapids, Lansing, Kalamazoo, Elkhart, Battle Creek, South Bend, Muskegon, Mount Pleasant, Traverse City, Jackson and throughout the surrounding areas.
Looking for a price? Get a no cost, no obligation free estimate.