There are many different dehumidifier options on the market, so how do you choose the best one? How large of a unit will you need? What kind of options make for a low-maintenance, high-functioning design?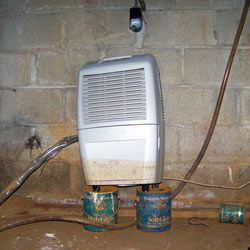 Seal Your Crawl Space From Outside Air
In the moisture control business, we see unfortunate crawl space dehumidifiers set up like the one shown on the left all too often. Notice the cans underneath the legs, placed there to keep it above the floodwater line.
This dehumidifier doesn't stand a chance! Two-foot floods aside, this system is up against a vented crawl space. As soon as it dries the air, new outside air is there to replace it, and it will never keep up with this cycle.
A dehumidifier can't possibly work in a vented space, no matter how powerful it is. A dehumidifier will run continuously in a vented crawl space, this will cost you a bundle in utility bills.
Before trying to dehumidify the space, install a crawl space sump pump if you ever have standing water in the space. You should also seal off the vents, and install a crawl space vapor barrier. This will limit the new air reaching your system, and giving your dehumidifier a chance to dry the space.
---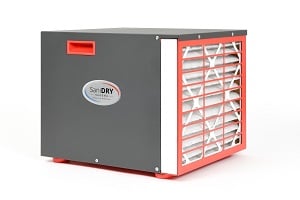 Install A Self-Draining Dehumidifier
A self-draining dehumidifier can save you from continued visits to your crawl space. If you have a dehumidifier with a water collection tray, your dehumidifier may be full to capacity and shut off automatically in as little as 12 hours.
Who wants to go into their crawl space every day to empty a collection tray? Even in a clean, well-maintained space, it's a chore most people would pass on if they could.
Our SaniDry™ Sedona can save you from this chore. With a self-draining design, it can remove up to 95 pints of water per day in your crawl space, without ever needed to have its collection tray emptied. It can empty to a sump pump or drywell, or a special condensation pump can be added to discharge the water outside.
---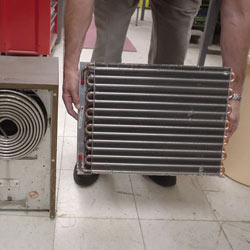 Find A Powerful Dehumidifier
If you currently have a dehumidifier in your humid crawl space but the area is still damp, musty, and moldy, then you can make an obvious conclusion: it's not doing its job.
When a crawl space dehumidifier isn't powerful enough to handle the moisture it will not stop the mold and rot in a crawl space, but it will slow it down a little. How much damaging fungus is acceptable in your crawl space? If the answer is "I don't want any mold or rot there!", then it's time for an upgrade.
Many homeowners think that the answer is to buy a second dehumidifier. This, however, is not the answer. Twice the units means twice the noise, twice the electricity used, and very often, a crawl space that's still damp.
The SaniDry™ Sedona is a crawl space dehumidifier that's strong enough for the job! Its powerful 300 CFM blowing motor will circulate air throughout your damp crawl space, drying everything out and keeping it dry all the time!
The large cold coil surface of the dehumidifier (see comparison in photo) helps it handle a 6,000 square foot crawl space, at 3 feet high. An adjustable knob lets you decide how dry you want your crawlspace-- just set it and forget it!
---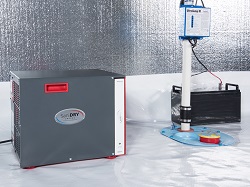 Make Sure It's Energy Efficient
Most hardware store dehumidifiers can really add up when it comes to usage! In many cases, these systems can cost you 11 cents or more to remove a single pint of water.
The main reason that these units are not energy efficient is due to their small cold coils that many dehumidifiers have installed in their system. They just don't have the power or efficiency to do the job the way it's meant to be, and as the homeowner, you pay for it.
Our SaniDry™ Sedona crawl space dehumidifier has a unique heat exchange system. With an operating temperature of 40°F - 95°F, it's optimal for the cool crawl space environment!
Install a Warrantied SaniDry™ Sedona System in your crawl space!
Let us help you dry your crawl space! Call or e-mail us today for a free crawl space dehumidifier quote!
We service the Michigan & Indiana area, including Grand Rapids, Lansing, Kalamazoo, Hillsdale, Saint Johns, Hastings, Manistee, Dowagiac and nearby.