SilverGlo™ Crawl Space Wall Insulation System
Our System Expertly Seals & Insulates Your Home's Crawl Space
What It Does:
SilverGlo™ Crawl Space Wall Insulation combines highly effective graphite-impregnated insulation with a built-in radiant heat barrier surface. This gives your crawl space walls an unbroken plane of R-11 insulation.
SilverGlo™ also provides a vapor barrier that will hold back moisture from your crawl space walls and direct flooding water down to your drainage and sump pump system.
Technical Features
Graphite Particles Improve Insular Properties By 24%
Closed-Cell Insulation Will Not Soak Up Moisture Like Other Options
Brings Crawl Space Up To Current National Energy Code
Radiant Heat Barrier On Visible Side
Economical Insulation Option For Crawl Space Environment
Quality & Economy For Insulating A Crawl Space
SilverGlo™ is an expanded polystyrene foam insulation that's been infused with graphite during its creation to improve its insular ability by 24%. It provides a radiant heat barrier on the visible surface and also provides an insulation rating of R-11. our crawl space insulation can also be tailored for special projects or local code requirements, making it a versatile, effective solution.
Keeping your crawl space dry is important to help prevent mold, rot, and musty odors. SilverGlo™ doesn't only function as crawl space insulation, but it also creates a vapor barrier on your crawl space walls that keeps moisture from making its way into your crawl space.
SilverGlo™ is part of a crawl space repair system that includes our TerraBlock™ Floor Insulation and our CleanSpace® Vapor Barrier. We also have several crawl space waterproofing products such as our SmartSump™ Sump Pump System to control flooding, our SmartPipe™ Drainage System; the only drainage system made specifically for crawl spaces, and our durable CleanSpace® Drainage Matting.
Learn more about our crawl space repair systems.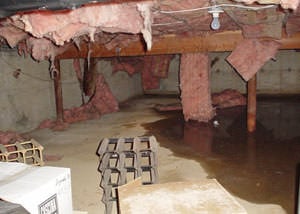 As fiberglass insulation becomes soaked with moisture in a crawl space, it will grow mold and "drip" off the ceiling.
What NOT To Do
Many times we see vented crawl spaces with fiberglass insulation on the ceiling. This creates the perfect storm for humidity and mold growth.
During the summertime, crawl space vents bring in humid air where it's cooled in the crawl space. As this air cools, the relative humidity of the air rises, and the excess moisture is left on surfaces in the crawl space in the form of condensation.
Some of this moisture ends up on the fiberglass insulation in your crawl space. When fiberglass insulation becomes wet or damp it does not insulate as well as dry insulation. The added weight from the moisture will pull it from the ceiling, leaving it in messy, useless piles on the floor.
Wet insulation can actually become a food source for mold and rot, as they feed on organic material. Once mold and rot begin growing they spread until they leave your crawl space devastated.
Additionally, if you allow the cold winter air into your home through the crawl space vents your are making your utilities in your crawl space, such as your water heater, furnace, heating ducts, and hot water pipes, work harder./p>
In short--crawl space vents and fiberglass insulation simply do not work! They are bad for your home, your wallet, and your health.
We Can Seal and Insulate Your Crawl Space!
At Ayers Basement Systems we have what you need to encapsulate your crawl space and upgrade its energy efficiency. Our warrantied products can keep water and moisture out of your home while making your home more energy-efficient than ever!
For a free, no-obligation, written crawl space repair quote, we're the contractors for you! If you are interested in our vapor barriers or crawl space insulation, call or e-mail us today to schedule an on-site appointment!
We proudly serve Grand Rapids, Lansing, Kalamazoo, and many other parts of Michigan & Indiana.
Looking for a price? Get a no cost, no obligation free estimate.