Foundation Repair in Mid and Western Michigan
Foundation Repair Contractor Serving Lansing, Grand Rapids, Kalamazoo And Nearby
If you'd like to get the foundation problem fixed permanently in your home, you'll first need to know exactly what's needed for your unique problem. Whether you have cracked floors, uneven or sloping floors, bowing walls, slab settling or sinking or other foundation symptoms, we can help.
At Ayers Basement Systems, our team of certified in-house foundation repair experts is here to help. We have the training, experience, and warrantied products you need to solve your problem. Whether your home needs push piers, helical piers, wall anchors or other solutions, we can help.
If you'd like to meet with one of our experts for a home inspection, consultation, and written foundation repair quote, contact us today! Each of our quotes comes completely free and at no obligation.
Common Foundation Issues:
(Click for more information about each solution.)
We use products that have been designed, manufactured, and distributed by Foundation Supportworks™, Inc., an international network of more than 100 of the most experienced structural repair contractors in North America.
Foundation Supportworks'™ team of in-house geotechnical and structural engineers have carefully designed, tested, and patented solutions for repairing foundation problems of all types. Each of our products is based on time-honored solutions that meet all local and international standards.
Don't let the foundation get worse! Check your foundation for common issues related to foundation settlement and give us a call. Let Ayers Basement Systems repair your foundation! We bring warrantied solutions and proven quality straight to your door. Contact us today to schedule your free quote!
Foundation Structural Damages Steal Your...
The average home can weight 160 tons and surrounding soil can put up to 1000 lbs. per foot of pressure on...
Watch Video
Foundation Repair Videos
Foundation Repair in Lansing - Recent Projects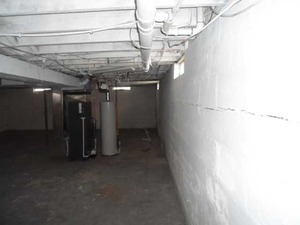 Before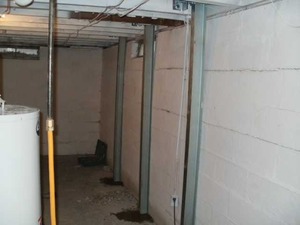 After
Foundation wall cracks is a common early sign of a structural problem. This Lansing home had horizonal foundation cracks and bowing basement walls. The homeowners called Ayers Basement Systems in search of a foundation repair contractor. After inspecting the foundation, their foundation specialist recommended installing PowerBrace™ to help stabilize the foundation walls. With this patented foundation wall repair system in place, the homeowners no longer have to worry about buckling walls in their basement.
Foundation Repair in Grand Rapids, MI - Recent Projects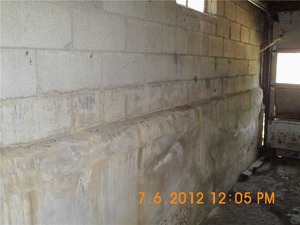 Before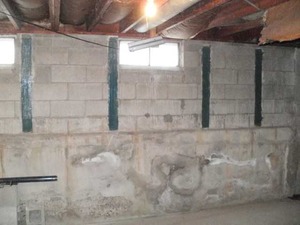 After
Many homes in the Grand Rapids area are built on concrete block foundations. When pressure from expanding soil pushes against the foundation, the foundation wall can bow inward and the mortar joints can crack (see before photo). Our CarbonArmor foundation wall repair system can stop walls from bowing. The high-strength carbon fiber strips prevent further movement of the basement walls.
See our before & after photos of other foundation repair projects completed in Lansing, Grand Rapids and other areas throughout Michigan.
We Have Simple, Permanent Solutions For Your Foundation Problems!
For our contractors, a typical home foundation repair usually takes less than a week to complete. All of our systems come with a written warranty -- so that you know the problem was fixed right, and so you can have peace of mind for many years to come.
Issues like stair-step foundation cracks, buckling walls, and sagging floors can be devastating to your home's value and make you feel bad about the way your home looks and feels.
Our foundation repair systems are designed to do more than just permanently repair your home -- they're also designed to return your structure back to its original position.
Regardless of why you're experiencing a foundation problem in your home, Ayers Basement Systems conducts a thorough inspection of your home, and we'll let you know exactly what steps need to be taken to permanently stabilize your foundation and restore value to your greatest investment.
Ayers Basement Systems fixes foundations in Michigan including Grand Rapids, Lansing, Kalamazoo, Onekama, Arcadia, Cadillac, Grand Haven, Douglas, Muskegon and nearby.
Looking for a price? Get a no cost, no obligation free estimate.