Your Basement & Foundation Contractor
Ayers Basement Systems has been helping homeowners and businesses in Petoskey with basement waterproofing and foundation repair for over 40 years. We have successfully completed hundreds of basement and foundation projects throughout Michigan & Indiana, including Petoskey. If you need foundation repair, basement waterproofing, concrete leveling and crawl space encapsulation we are your trusted contractor.
Why Us for Basements & Foundations:
Experience - 40+ years and hundreds of successful projects.
Patented Products - proprietary basement & foundation tools.
Trained Professionals - trained & experienced repair specialists
Professional Service - dedicated to 100% customer satisfaction
We have the needed experience, expertise and tools required to create permanent foundation and basement repairs. Call us today, 1-844-262-2971, for a free home inspection and no-obligation cost estimate.
Basement Waterproofing & Crawl Space Repair
Water and moisture in the basement means mold and rot. Both of which are dangerous for your home and your family. Ayers Basement Systems protects you from mold and rot by properly waterproofing your basement or crawl space and giving you a transferable, lifetime, dry-basement warranty.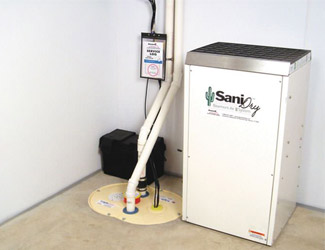 We can fix:
Wet Basements
Damp or Moldy Crawl Spaces
Leaking Wall Cracks
High Humidity in the Space
Uncomfortable Temperatures
Wet Basement Waterproofing
As members of Basement Systems, the international network of waterproofing contractors, we receive advanced training and access to proven, patented basement waterproofing products. The training and products come together in a complete basement waterproofing system. The system consists of an interior drainage channel that runs along the inner perimeter of the basement. Any entering water is collected in the channels and drained to a hidden sump pump which pumps the water out of your home. The addition of an energy-efficient basement dehumidifier keeps the relative humidity low enough to prevent mold growth.
Crawl Space Encapsulation
We use a similar waterproofing system to keep your crawl space dry and protected. A insulated matting and vinyl vapor barrier are laid on the floor and walls of the crawl space. The crawl space vents are sealed and a sealable entryway is installed. The system keeps water and moisture out of the space. A crawl space sump pump and dehumidifier complete the system removing any water or moisture that manages to enter the space from upstairs. No water in the basement. No mold or rot. No uncomfortable floors above the crawl space.
Foundation Repair & Concrete Leveling
Foundation problems are serious challenges that need to be immediately addressed. Ayers Basement Systems is Petoskey's trusted foundation professional offering permanent foundation repair and restoration services.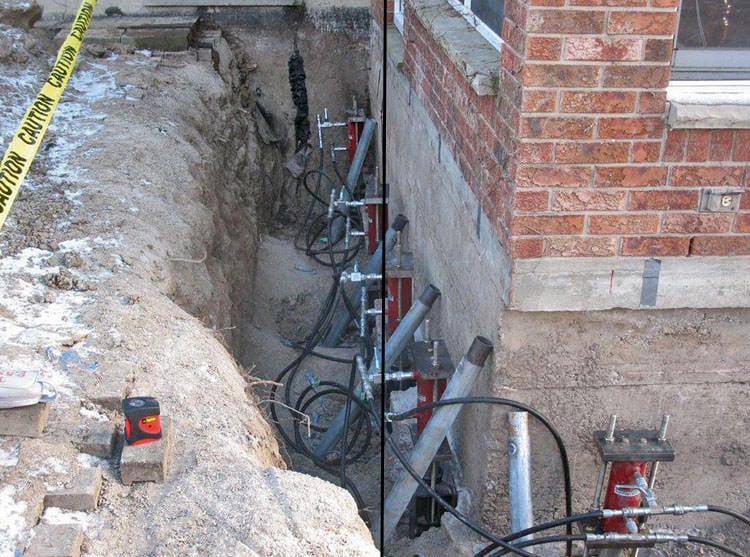 We can fix:
foundation wall cracks
Separating floors
Soil issues
bowing walls
Sunken concrete slabs
Professional Foundation Repair
If you are dealing with a sinking or settling foundation issues we have solutions. Depending on the foundation problem you are facing we have different piering systems. The piers are drilled down into the earth to find load bearing strata. These piers include helical piers, push piers, slab piers and helical deck piers. For bowing basement walls we can use wall anchors, wall support systems or sprayed concrete to correct the problem. We even fix sunken floors over crawl spaces with support jacks.
Updated Mudjacking Techniques
Using an updated mudjacking technique (aka slab jacking) we lift and level sunken concrete slabs. The traditional mudjacking process requires a thick mudslurry be pumped beneath the sunken slab through holes drilled through it. The pressurized mudslurry lifts the sunken slab back to its original position. Rather than use mudslurry we instead use PolyLEVEL, an expansive polyurethane foam. The foam expands to fill any gaps beneath the slab. It is much lighter and puts less stress on the soil base. It also cures within hours rather than days. We offer the best solution for concrete lifting and leveling in Petoskey.