Whether you're on Lake Cadillac, Mitchell Street, or on the eastern side of town, Ayers Basement Systems can fix your leaky crawl space or foundation problem. We've done many, many jobs in Cadillac over the years and would love to fix your home too.
Your Cadillac Basement & Foundation Contractor
For over 40 years, Ayers Basement Systems has been serving Cadillac homeowners and businesses. We are a locally owned and operated company that has successfully completed hundreds of projects throughout Michigan & Indiana including Cadillac.
Why Choose Ayers Basement Systems for Basement & Foundation Repairs?
Experience - 40+ years and hundreds of successful projects.
Patented Products - proprietary basement & foundationtools.
Trained Professionals - trained & experienced repair specialists
Professional Service - dedicated to 100% customer satisfaction
We have the tools, experience and training needed to provide permanent solutions to your basement & foundation problems. We provide free home inspections & no-obligation cost estimates. Give us a call today to get started.
Basement Waterproofing & Crawl Space Repair
Water or moisture below your Cadillac home, whether in a basement or crawl space brings the same results, mold and rot.
Over time, mold and rot can permanently damage your home. Your basement or crawl space will become an unfriendly, unhealthy hazard. We prevent water and moisture from ever causing problems in these areas with proper waterproofing and encapsulation.
We Fix:
Wet Basements
Damp or Moldy Crawl Spaces
Leaking Wall Cracks
High Humidity in the Space
Uncomfortable Temperatures
Wet Basement Waterproofing
Ayers Basement Systems is part of the Basement Systems International network of basement & crawl space waterproofers. Our waterproofing crew receives advanced training and access to proven, patented waterproofing products.
We install an interior basement drainage system. The system runs along the perimeter of your basement, hidden beneath the concrete. Any entering water is collected in a drainage channel and runs to a hidden sump pump. The water is pumped outside of your home and away from the foundation. The basement humidity is controlled by an energy-efficient basement dehumidifier we install in your basement.
Crawl Space Encapsulation
We use a similar system to waterproof and protect crawl spaces in Cadillac. The crawl space is encapsulated and sealed using a thick, vinyl vapor barrier. The vapor barrier is laid on an insulated matting placed on the ground. The crawl space vents are sealed and the entrance is upgraded with a sealable entryway. A crawl space dehumidifier and sump pump are added to finish off the system. Your crawl space is permanently protected from water, moisture and mold.
Foundation Repair & Concrete Leveling
Foundation issues need to be dealt with efficiently and professionally. If left unabated they will continually grow worse, causing extensive damage.
The good news is that damaged foundations can be repaired and restores. Ayers Basement Systems has permanently repaired the foundations of hundreds of Cadillac homeowners.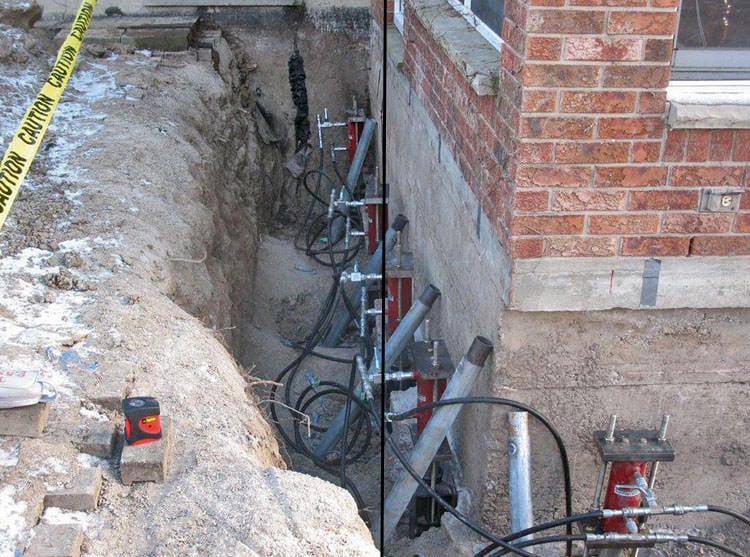 We Fix:
Foundation wall cracks
Separating floors
Soil issues
Bowing walls
Sunken concrete slabs
Professional Foundation Repair
If you are dealing with a sinking or settling foundation, our foundation piers are the answer. Depending on the particular challenge facing your home we may use helical piers, push piers, slab piers or helical deck piers to provide the needed support. The installed piers will lift your home back to its original position.
We also fix bowing basement walls with our wall anchor and wall stabilization systems. We can even add additional support with sprayed concrete. If you have a sinking floor over a crawl space we raise it back to a level position using crawl space support posts. Whatever your home's need, we have the right answer.
Concrete Lifting Pro in Cadillac
Here in Cadillac, Ayers Basement Systems fixes problems like uneven sidewalks, front steps, porches, driveways and more. Keep tripping over that section of sidewalk? Is your sinking front step driving you crazy and lowering the chances of selling your house? We have a solution for you.
Ayers Basement Systems uses PolyLevel®, which is an alternative to mud jacking and lifts the concrete back into place. We do this by pumping the PolyLevel® under the structure to lift it back into place.
The best part of our PolyLevel® solution is that it sets in as little as 15 minutes and is non-intrusive and makes very little mess. PolyLEVEL is also much lighter than concrete so it doesn't put additional stress on weak soil bases.
Ayers Basement Systems is your best choice for concrete leveling and lifting in Cadillac, so contact us to set up your FREE concrete lifting estimate today.