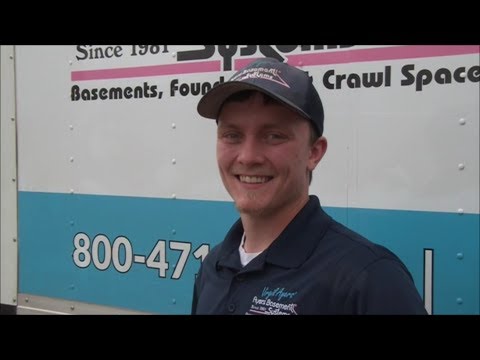 Watch My Video
Customer Reviews
About Me
By K F.
Ionia, MI

By Mary D.
Grand Rapids, MI

"The sidewalk is like new - no bumps - I don't need to worry about tripping anymore!"

By Charles H.
South Haven, MI

By Dave And Pattie N.
Baroda, MI

"Very very knowledgable, friendly, good work ethic, and fast. I could go on and on! Respectful too! "

By Scott G.
Stevensville, MI

By Bob W.
Glenn, MI

By Norman & Melissa H.
Holland, MI

"Absolutely a pleasure to work with!"

By Jesse A.
Holland, MI

By Thomas & Shirley O.
Fruitport, MI

By Jose B.
Muskegon, MI

"They did a good job and explaining what they were going to do in our basement."
Travis Tate

from

Ayers Basement Systems
Title:
Concrete Leveling Specialist/Service Technician
Hometown:
Holton, Michigan
You want your home to be safe and secure; Travis' goal is to ensure it is by leveling and lifting any uneven concrete.
Concrete settlement is common and can cause significant problems like trip hazards, pooling water, and cracks. Our PolyLevel® is a high-density polyurethane that raises slabs back to a desired level. It can be used for sidewalks, driveways, garage floors, pool decks, and porches.
Bringing a comprehensive, personalized approach to every job, Travis will evaluate your areas of concern and provide a solution to quickly and effectively stabilize your sinking, settling concrete. Travis' customers recommend him and the Ayers Team to their family and friends.
Travis' past experience includes architectural and mechanical computer aid drafting (CAD). He has extensive customer service experience and takes pride in being responsive to his customers' needs.
Travis also completed extensive training to evaluate your waterproofing, foundation, and crawl space repair needs. In addition, as part of the service team at Ayers, he responds if you need help after installation and to do annual maintenance.
"Once a concrete slab cracks and sinks, it becomes dangerous," Travis said. "We lift and stabilize it, giving you peace-of-mind.
Originally from White Cloud, Michigan, Travis currently resides in Holton, Michigan with his three dogs. In his spare time, he enjoys tinkering on vehicles, singing karaoke, doing home improvements, and spending time at Lake Michigan.
Videos from projects I was involved with: